Conceived by AITEM, made for you!
The AITEM Academy specialised training course "Digital transformation of production processes" was completed in June. It was organised by Marco Sortino and Giovanni Totis from the University of Udine.
The course, attended by 9 PhD students and 7 technicians from several Italian companies, aimed at providing an overview on the technical solutions, opportunities and perspectives arising from the application of 4IR concepts to machines and plants.
The course included lessons in Italian and practical demonstrative activities thanks to the tools and the use cases from the Regional Laboratory for Advanced Mechatronics – LAMA FVG of the University of Udine.
The activities were divided into 4 weekly afternoon appointments, each one dealing with a specific topic, from 21st May to 11th June 2021. The first appointment examined the sensorisation of machines and plants. Giovanni Totis provided some demonstrations of sensorisation and data acquisition with equipment from the LAMA FVG. CinziaLacopeta from McKinsey, basing on the company's international experience, gave a comprehensive overview of 4IR opportunities. Francesco Caraglia from Kistler outlined the existing industrial sensory solutionsas well as sensory signal management logic.
The second appointment explored data collection infrastructures and platforms.After an introduction to the topic by Marco Sortino, Mirko Magrini from Wonderware depicted the possible integrations with MES systems. Then, Andrea Gozzi from MindSphereWorld showed the example of the MindSphere platform for collecting data and creating applications as well as examples of industrial applications.
During the third day, Marco Sortino presented advanced data processing functions through Machine Learning, and Marcello Urgo from the Politecnico di Milano talked about Digital Twin. Then, Daniele Fornasier from beanTech showed industrial examples of application to artificial vision.
Finally, the last day focused on advanced industrial automation with Paolo Albertelli from Politecnico di Milano, presenting solutions for controlling vibrations in machine tools, and Francesco Sortino from RF Celada, illustrating modern solutions for flexible manufacturing systems. Examples of data analysis for developing "Digital Shadow" models were presented by Giovanni Totis, and Marco Sortino concluded the course depicting the topics of 5IR.
Participants have reserved accessto the trainers' presentations and lesson recordings.
Trainees participated actively with questions and in-depth sessions. End-of-course questionnaires showed that the course contents matched the participants' professional interests, that the trainers' presentations were considered clear and of high quality, and that participants were completely satisfied with the contents and the teaching method.
The photo gallery and press release of the event are available at https://www.aitem.org/FabbricaDigitale/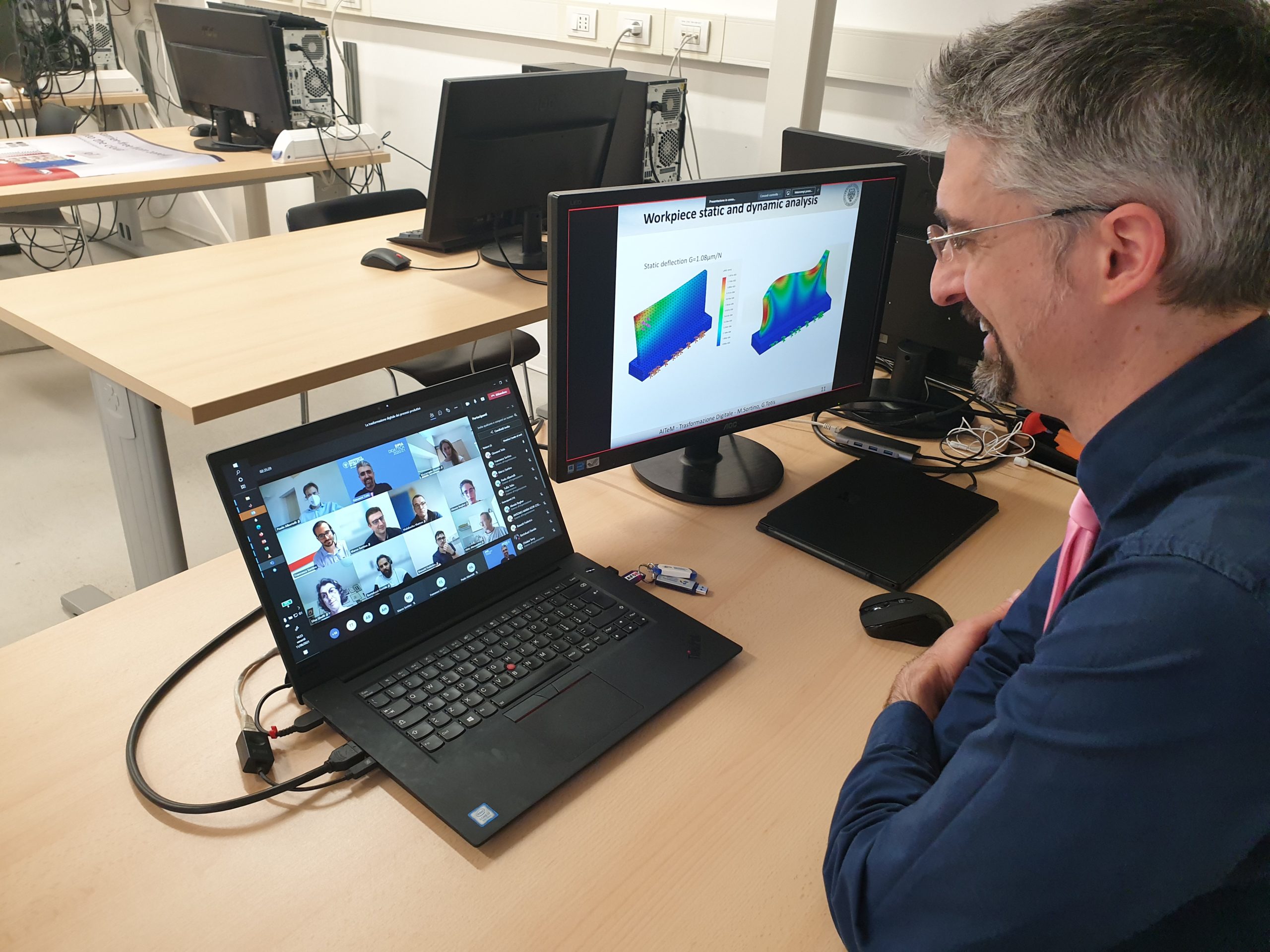 1- A moment during theoretical lessons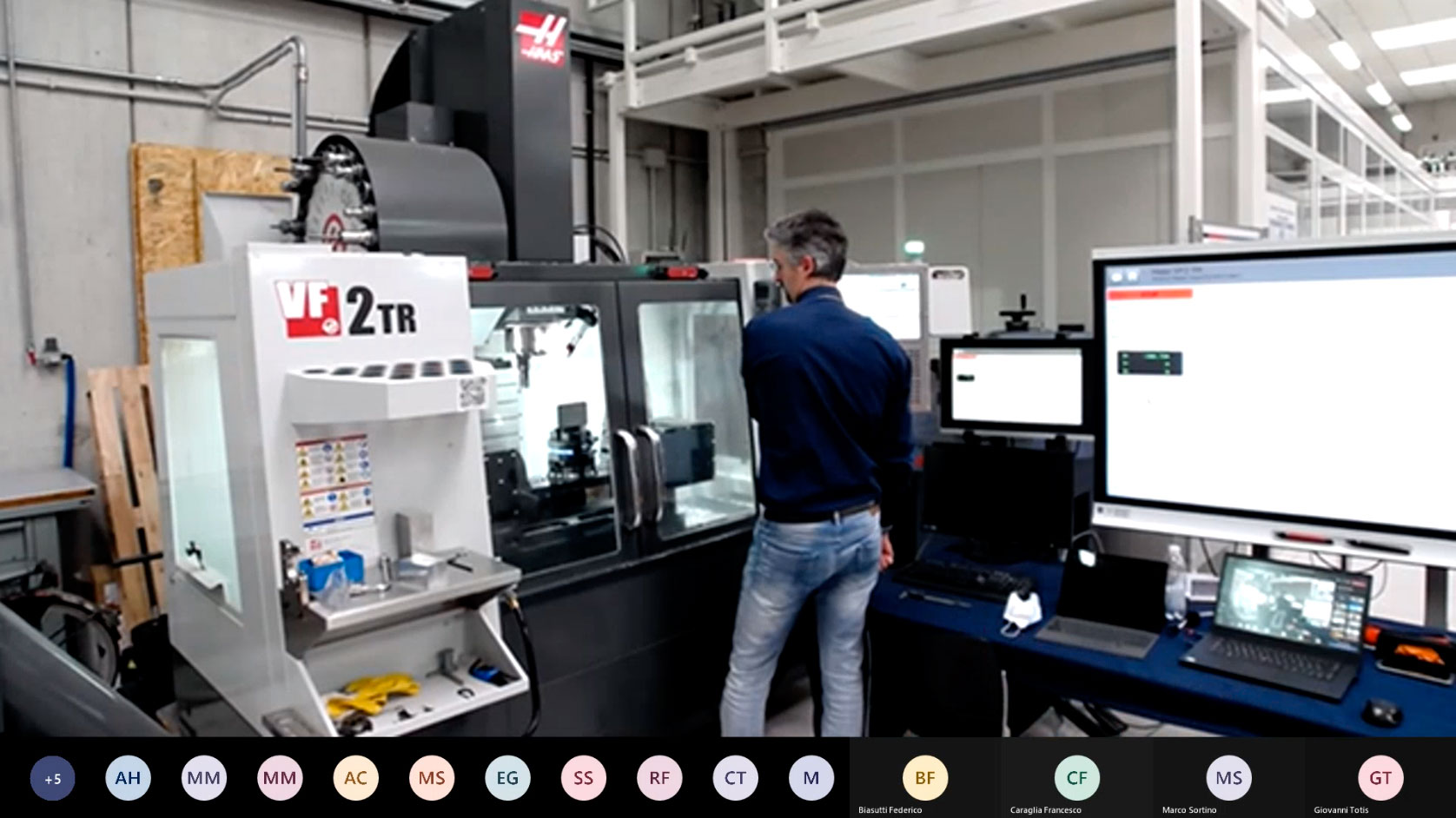 2- Demonstrations with LAMA FVG equipment